We consider it our mission here at Style Girlfriend to help guys look their best. And sometimes that means dressing up. We know, we know…that's not always in a guy's wardrobe comfort zone. So, how to wear a suit and make the style feel like your own?
If you work in a corporate environment, odds are the suit is your sartorial bread and butter. And, like a bread and butter combo, it can start to feel real boring, real quick if you don't get inventive. Of course, if you're more of a flannel-wearing creative type, figuring out how to feel like yourself might be even more of a challenge. You don't want to get stage fright the next time you pull one on for a wedding or formal event. 
Discover five ways to wear a suit that feels like "you"
1.Layer Up
A suit may be the outer shell, but there's plenty of room to play around with layers. Sub out the white dress shirt for an Oxford button-down, a more playful madras shirt, or even a lightweight v-neck sweater. If your office is more casual, try leaving the suit jacket at home and pulling on a perfectly worn leather or denim jacket instead.
2. Engage in Pattern Play
You can't go wrong with solids, but if you're looking to add extra interest, and have the chutzpah to pull off a pattern, the options are endless. Try a pinstripe, or a broader, ballsier chalkstripe. If you prefer checks, Glen Plaid is a subtle, classic choice, but a windowpane pattern is guaranteed to get some attention. Guys who like a subtler style swerve should consider changing up the texture of their suit: think linen, for a more organic feel, or a silk blend for some extra shine.
---
How to wear checks 5 different ways.
---
3. Sweat the Small Stuff
If you're looking to stand out without trying too hard, the easiest trick is to upgrade your accessories. That could mean a pair of blue suede shoes (no one ever faults The King), a natty tie bar, or a well-placed pocket square in a complementary color. Another fail-proof option? Switch up your socks with a color that pops in contrast to the rest of your look.
---
The secret to wearing tricky colors.
4. Know Your Type
The fact is, you don't look like everyone else out there. You might be taller, or shorter, or more built, than the guy next to you. The trick is making sure your clothes emphasize what you like about your build.
And that, my friends, is where your tailor comes in. That suit you bought off the rack is fine, great even! But we promise it'll look twice as good when you pay half the ticket price to have a tailor fit it to your physique.
---
Clothing brands for your specific body type.
---

5. Try a New Hue
The easiest way to go from office drone to man-about-town? Take a classic color, like navy, then go a shade lighter — say, a bright royal blue — or a shade darker, like an inky midnight color. It's all about subtle degrees of difference, not look-at-me neons.
***
Want even more outfit inspiration? Check out these not-your-typical suits for a few ideas
You could wear a…t-shirt with a suit
A reminder to write about this very topic has been sitting in our Slack channel when we spotted style blogger Moti in – of all things – a black suit with a graphic tee. Bold, right?
As he put it, the outfit was actually born out of desperation..what to wear with an under-utilized, weddings-and-funerals-only black suit? (We get that, right guys??)
He decided to dress his down, with slip-on sneakers and a bold black and white graphic t-shirt. We think he looks great.
If you do too, why not try taking this look for a test spin? After all, summer is the perfect time to get a little creative with your suiting. If an outfit bombs, you can always blame it on the humidity ("What?! It was just so hot! You can't expect me to wear sleeves in this weather..")
How to wear a t-shirt with your suit:
Fit. This is not the time for your pleated pants and a-wee-bit-too-broad shoulder pads. Stick to a suit with a modern, slim fit, tailored close to the body.
A clean tee. Start simple, with a solid-colored t-shirt that hits close to your natural waist. Having to tuck the tee into the suit pants would make the overall effect more formal – and therefore more stuffy – and we're trying to keep this thing easy like Sunday morning. Cue L.Richie in 3, 2, 1..
Skip the socks. This is a look that's all about (at least looking like) not trying too hard.
Get creative. Once you're comfortable with the suit and t-shirt vibe, you can start experimenting. Start swapping in different tees, from a pocket tee to a polo shirt. Try belts in various materials (or none at all), and go wild with your footwear options. Personally, I'm a sucker for a man in a velvet tuxedo slipper worn uber-casual. But hey, maybe that's just me..
You could wear a…shorts suit
How to wear a shorts suit
Nail the proportions. The jacket shouldn't be too cropped but it should have a modern look to it, so the shorts should be a few inches above the knee.
Keep it simple. Neutral colors and simple accessories work best with this look.
No socks! Unless they're no-show.
Summer suiting only. This probably goes without saying, but if you're going to go there, make sure to keep your shorts suit a summertime-only thing. Find a shorts suit in a lightweight material – a linen cotton blend, khaki, or seersucker.
You could wear a…corduroy suit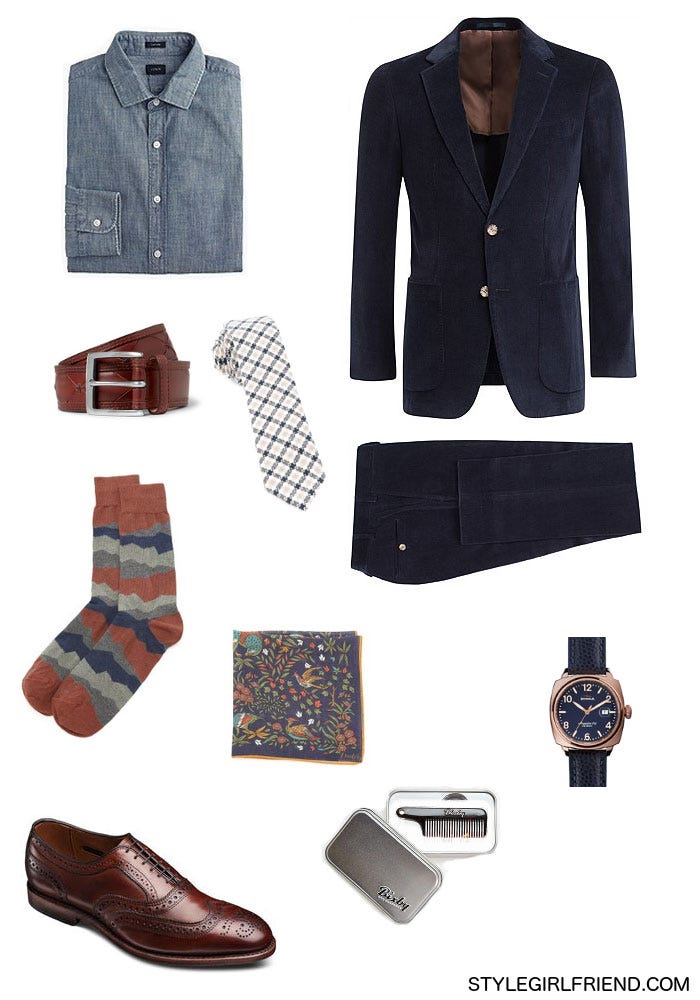 How to wear a corduroy suit
SG Says: The recipe for corduroy suit success? Start out with a two-buttoned navy, tan, or a chocolate brown version that will be understated, but still impactful. If you're feeling adventurous, an olive green suit is an impressive option. Once your core components are together, finish the look with a printed pocket square and sharp watch.
As much as we love a pair of cords or a blazer worn separately, you can conjure some coziness by graduating from corduroy separates to a fully suited stunner – and it's easier than you think. Create a look that's more posh than 70's professor by pairing a chambray shirt and textured check tie with your suit. While these are certainly neutral colors, their textures amp up the overall outfit in a big way.
You could wear a…brown suit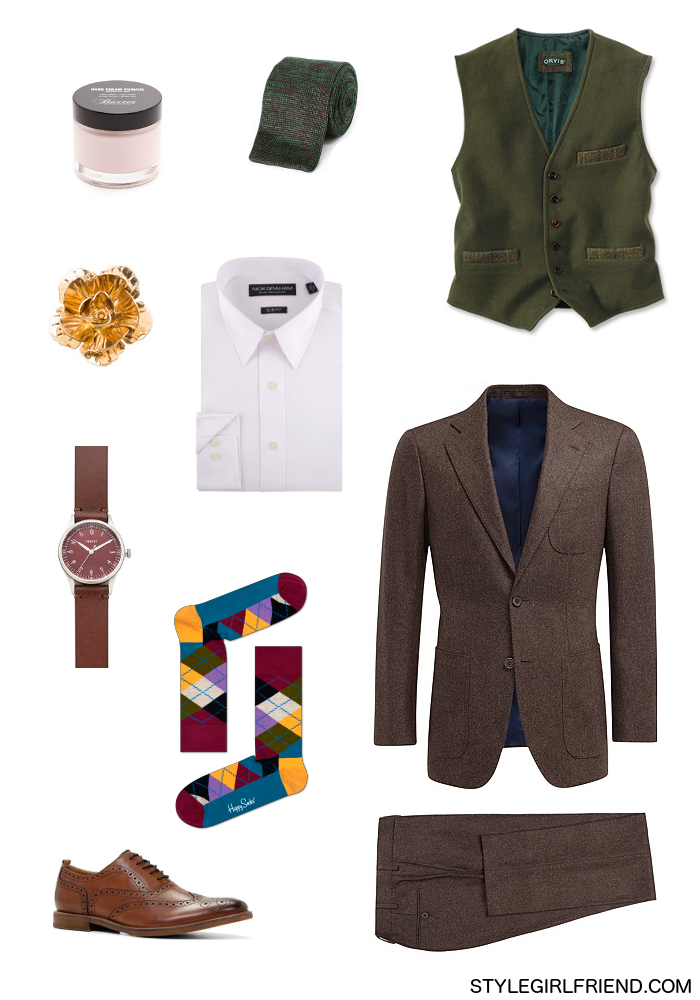 How to wear a brown suit
SG Says: A brown wool suit can be anything but basic. Crafted in a wide variety of shades, a great "starter" brown belongs in the chocolate family for ultimate versatility (and charm). While a tan suit is handsome for spring/summer, a darker shade will carry you through the colder months and make it simple to work into your navy and charcoal circuit.
No, really. You could wear a brown suit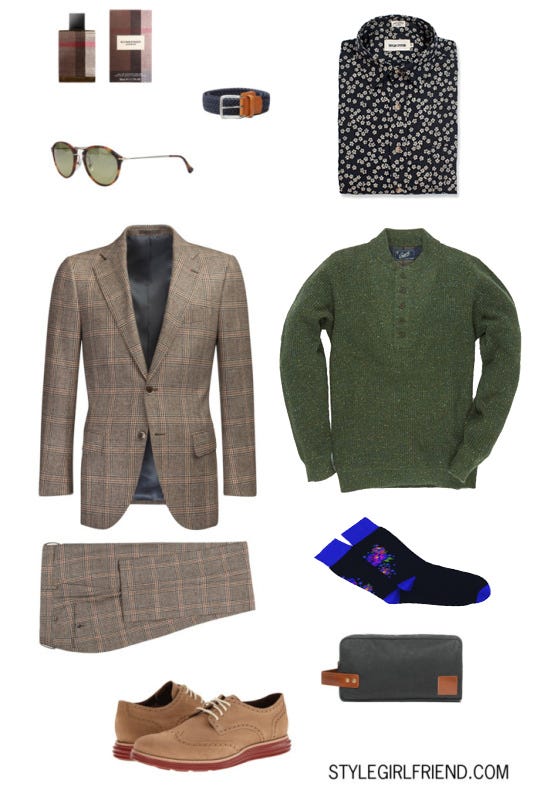 SG Says: From nearly neutral to coffee-colored, a brown suit is an ideal option for most occasions – yes, even work. Obviously navy and charcoal remain your priority, but they've got a worthy adversary in brown. This style looks super-modern and is easier to wear than ever before. While a brown patterned suit will garner a little more attention than your usual charcoal suit, it'll be the good kind of "Man, that guy really wears his suits" attention.
Brown with earth tones is a can't-miss color combo. Like that green sweater above. Cool, right? While black shoes on a brown suit can work, why not can infuse a bit more depth into your patterned brown suit with a light brown suede shoe?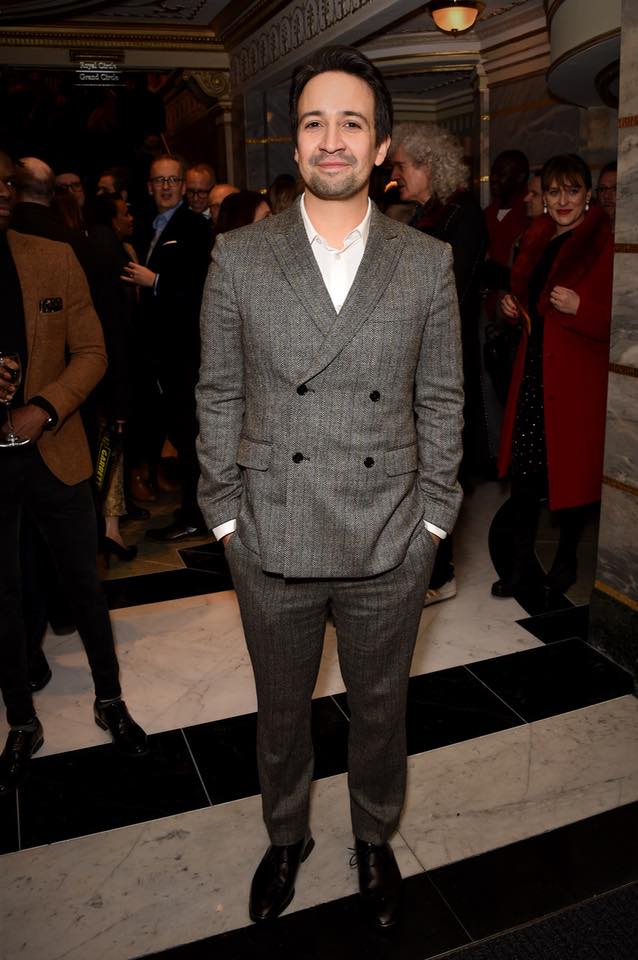 How to wear a double-breasted suit
SG Says: Yep, this suit is brown, too. Good eye. What can we say? It's a huge trend for 2019! But what we want you to really check out is the Hamilton star's double-breasted suit. Once you have your more standard navy and charcoal suits on lock, why not go for a DB number? And oooh, if you pair it with a turtleneck? Just you wait…
---
Expand your style with #SGapproved color guides: bluebird blue, amber orange, lavender, army green, and salmon.
---
Now, go forth, and look super-stylish in a suit.
Whether you use these tips in the office or on the weekends, you'll be feeling like a million bucks. We suggest taking some time in the AM to think about how to cultivate a distinct look of your own — whether that happens while brushing your teeth, washing up, or fitting in an early workout.