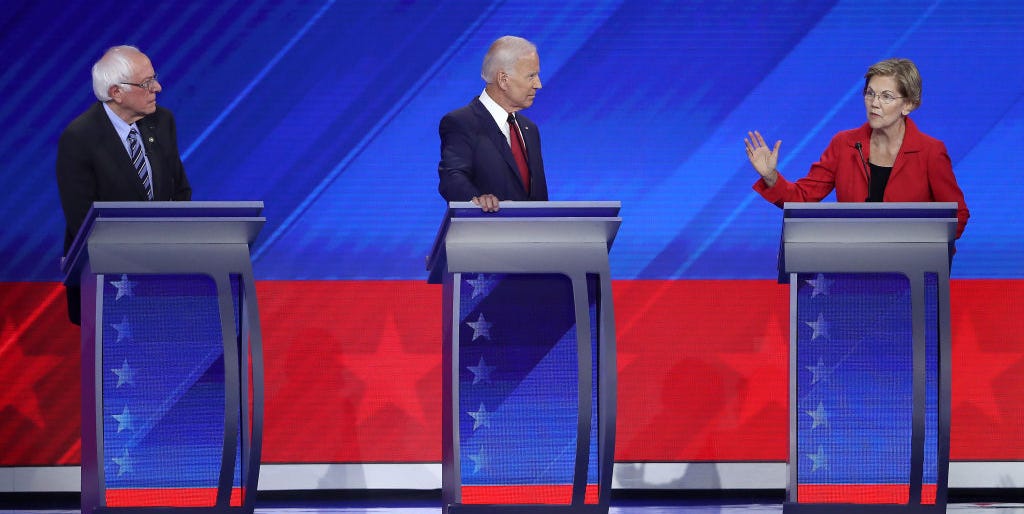 The 2020 presidential race is in full swing, and there are still a mind-boggling number of Democratic primary candidates vying for the party's official spot. Here's everything you need to know about the debates.
When are the February debates?
According to Politico, there will be three 2020 debates in early-voting states in the lead up to their primaries or caucuses:
Feb. 7 in New Hampshire at St. Anselm College, hosted by ABC News in partnership with ABC local affiliate WMUR-TV and Apple News
Feb. 19 in Las Vegas, hosted by NBC News and MSNBC in partnership with The Nevada Independent
Feb. 25 in South Carolina at the Gaillard Center, hosted by CBS News and the Congressional Black Caucus Institute in partnership with Twitter
The Feb. 19 debate will be moderated by NBC anchor Lester Holt, NBC News political director Chuck Todd, NBC News Chief White House Correspondent Hallie Jackson, Noticias Telemundo senior correspondent Vanessa Hauc, and The Nevada Independent's Jon Ralston. The debate will start at 9 P.M. ET and run for two hours.
How can I watch it?
The debate will be available to watch on NBC News and MSNBC, NBCNews.com, MSNBC.com, the NBC News app, the NBC News and MSNBC Facebook pages, and online at The Nevada Independent. You can also watch it live in Spanish on Universo, the Noticias Telemundo app and website, and the Noticias Telemundo Facebook page.
Is everyone debating?
Nope. The Democratic National Committee has steadily raised the requirements for each debate, and to qualify for the Las Vegas debate, candidates must meet one of these requirements:
Hit at least 10 percent support in four polls released from Jan. 15 to Feb. 18, or 12 percent in two polls conducted in Nevada or South Carolina.
Earn at least one delegate in either the Iowa caucuses or the New Hampshire primary.
For context, in order to appear on stage for the first February debate, candidates had to meet both of these requirements:
Hit at least 7 percent support in two polls in New Hampshire, Nevada and South Carolina, or hit at least 5 percent support in four polls in early nominating states or national surveys.
Receive donations from at least 225,000 unique donors.
Who has qualified for the Las Vegas debate?
The candidates who have qualified for the Las Vegas debate so far are Joe Biden, Michael Bloomberg, Pete Buttigieg, Amy Klobuchar, Bernie Sanders, and Elizabeth Warren.
So, Michael Bloomberg is debating?
Yes. Bloomberg qualified for the Las Vegas debate after a national poll released on Tuesday showed he had 19 percent support, according to the New York Times. It is the first time he will appear on the debate stage. Previously Bloomberg, whose campaign is entirely self-funded, was not able to qualify for the debates due to past donor requirements.
How have the qualifications changed?
In late January, the Democratic National Committee announced it would be eliminating the previous donor requirement after the New Hampshire debate.
Adrienne Watson, a DNC spokeswoman, spoke to Politico about the change, saying, "Now that the grassroots support is actually captured in real voting, the criteria will no longer require a donor threshold. The donor threshold was appropriate for the opening stages of the race, when candidates were building their organizations, and there were no metrics available outside of polling to distinguish those making progress from those who weren't."
These new rules have not been met kindly by some candidates:
Back before the December debate, nine candidates sent a letter to the DNC asking for the Democratic party to "ease the qualification requirements for upcoming debates," according to Vox. Sen. Cory Booker led the efforts, though all seven candidates who qualified for the December debate also signed, as well as former Housing and Urban Development Secretary Julián Castro, who didn't qualify. The letter asked the DNC to allow candidates to fulfill one qualification requirement, either polling or donor numbers, instead of both. Part of the letter's argument was that the strict requirements have led to a "decline of candidates of color in a primary field once heralded for being the most diverse in U.S. history."
The DNC resisted in a statement provided to Politico, saying: "The DNC has led a fair and transparent process and even told campaigns almost a year ago that the qualification criteria would go up later in the year—not one campaign objected. The DNC will not change the threshold for any one candidate and will not revert back to two consecutive nights with more than a dozen candidates. Our qualification criteria is extremely low and reflects where we are in the race. Once voting starts in February, our criteria will reflect those contests, which is more than appropriate. We're proud to have given candidates so many opportunities to get their message across, and will continue to have fair criteria that reflects each point in the race."
At the time, the New York Times reported that the DNC chairman Tom Perez decided that for the January debate, candidates needed to reach both donor and polling thresholds to qualify. However, Perez indicated that "he may scrap the thresholds altogether or substitute early-state results, or use a combination of both, as qualifying metrics for the five debates the party is planning for February, March and April."
ELLE.com will continue to update this post.